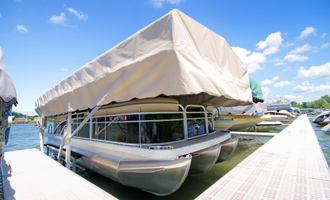 FREESTANDING LIFTS
Whether you need a lift for a 22′ Bennington Pontoon, an X2 Mastercraft with tower or your new SeaDoo Jet Ski, we offer vertical and cantilever lift options up to an 8000 lb capacity. Our lifts are easy to operate and we offer a full line of accessories including two different canopy design options.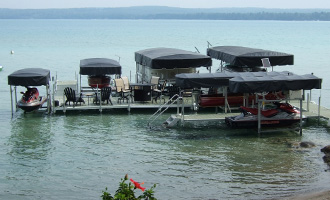 BOAT DOCKS
If you are looking for a quality residential or commercial free standing dock, we can help. Our docks offer different decking materials allowing you to choose what is most comfortable for you to walk on. The residential dock sections come in 2′, 3′ or 4′ widths and up to 5′ wide with commercial systems.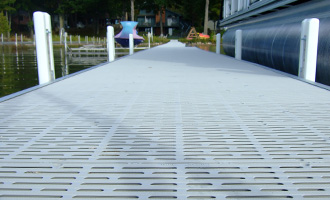 ACCESSORIES & PARTS
A full line of accessories in available for our lifts and docks. We offer canopies, guides, pontoon bunks, motors and motor stops for our lifts. Our dock line offers two support options, hardware, stairs and a bench. We also offer repair parts for our lifts and docks.
There's nothing like enjoying the lake, which all begins at your dock. If you spend a lot of time at the lake, you should make sure you like it there. 10 year warranty on Your Weatherproof Vinyl Dock with Welded Aluminum Support Assembly.  Twin Bay can service your needs through Old Point Comfort Marine. Visit our website to see our brochures and product offerings.