When it comes to Pontoons, Godfrey is the Pioneer
We introduced the world's first aluminum pontoon 60 years ago, and we continue to explore new innovations in styling, quality, safety, comfort, and performance. We know pontoons, and we don't just set the standard—we raise the bar. As the true original, Godfrey makes pontoons for every family, every lifestyle, and every body of water.
When you own a Godfrey, you're a trusted leader and a daring pioneer. You're not just on a boat; you're part of a proud and enduring legacy of craft, quality, excellence, and discovery.
Godfrey Pontoon Boats represent everything that family boating is all about. And no one offers a bigger range of deck layouts, comfortable easy-care furniture, entertainment centers, and high-performance options that will run with any boat on the water. You see it's not about getting away from it all. It's about getting out there and getting to the good stuff.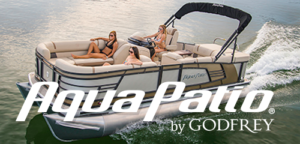 Aqua Patio is all about superior performance, sport design, and luxurious comfort with an edgy attitude. Packed with impressive details and high-end furnishings, these models are fun, stylish and ready to transform your boating experience.  When you're looking for a pontoon that checks all the boxes, go ahead and live the liquid lifestyle with Aqua Patio pontoons.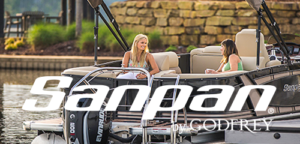 As the leading ultra-luxury pontoon line, Sanpan welcomes you aboard by setting the standard in cutting-edge design, high-end comfort, and incredible entertainment options. A wide selection of seating layouts means you get the perfect boat for your lifestyle. Whether you're hosting a sunset cruiser or taking the kids out for an afternoon at the sandbar, you will always travel in classic, refined style.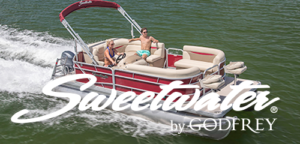 Sweetwater Pontoon Boats are simply the best value on the water today. Packed with everything you need, and nothing that you don't, we bring you all the convenient features, versatile layouts, and detailed amenities of the more expensive boats, at a price that won't break the bank.  We'll help you keep an eye on the bottom-line while you and your family are creating a lifetime of memories on the water.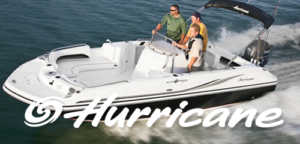 More than any other deck boat, a Hurricane works hard so you can play hard. Whatever your lifestyle, Hurricane boats give you and your family room to roam, room to play and room to grow. Our passion for quality, comfort, performance and fun is immeasurable. A Hurricane makes you feel energized, exhilarated and adventurous. Drive a Hurricane and you can go anywhere, do anything and be anybody. And who cares when you come back?